Vegetarian Okonomiyaki
Designed for professional chefs, check out this Vegetarian Okonomiyaki recipe: cooking instructions broken into components, full list of professional ingredients, chefs' preparation secrets. Master this recipe with products like: Knorr Vegetable Bouillon Powder, Hellmann's Real Mayonnaise and Knorr Professional Teriyaki Sauce.
Vegetarian Dishes
Main Courses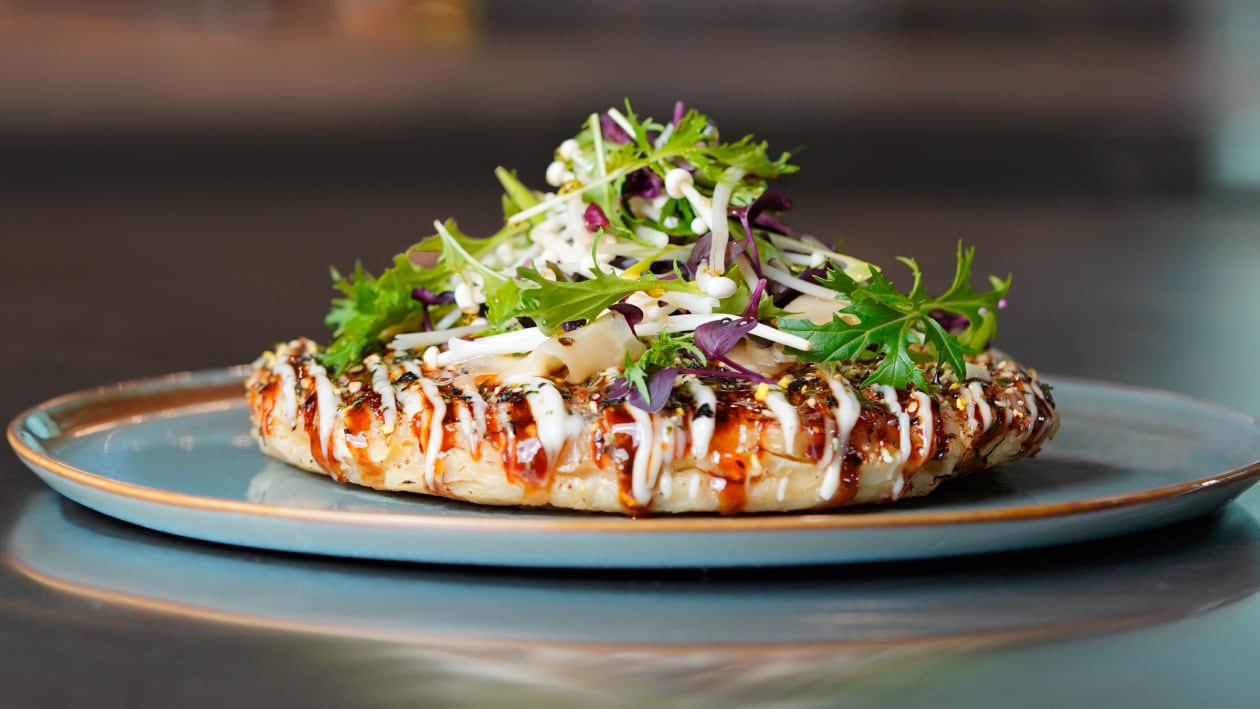 Ingredients
Okonomiyaki:
Kombu Dashi stock powder

10.0 g

Cabbage, finely shredded

1.2 kg

Wood ear mushrooms, hydrated and sliced into julienne

300.0 g
Sesame Mayo Sauce:
Toppings:
Japanese pickled ginger

100.0 g
Preparation
Okonomiyaki:

Prepare the okonomiyaki batter by combining all the dry ingredients first.
Dilute the dashi stock powder in water. Add the dashi / vegetable stock and egg, and mix well. Add the rest of the dry ingredients.
Fold in the shredded cabbage and wood ear mushrooms.
Preheat and grease the griddle.
Spoon the mixture onto the griddle. Once set, flip it over to cook the other side, taking approximately 2-4 minutes per side.

Sesame Mayo Sauce:

In a bowl, combine Hellmann's Real Mayonnaise with the sesame oil. Mix well and transfer to a squeeze bottle.

Toppings:

Drizzle the okonomiyaki with the sesame mayonnaise and the Knorr Professional Teriyaki Sauce.
Garnish the top by carefully arranging the nori, pickled ginger, mushrooms, greens and furikake. Furikake is a Japanese seasoning typically made with toasted sesame seeds, nori, salt, and sugar.

Delivery & Takeaway Tips:

Pack all the sauces and toppings separately.
Remove greens and cress, as they may wilt.