Not too long ago, the idea of a small business investing in an e-commerce solution was considered a significant and expensive undertaking. But these days hospitality operators can access a variety of pre-built, fit-for-purpose ordering solutions to help set up their direct delivery business within days.
ChatFood is a prime example of this growing trend. It is a direct-ordering system available to local restaurants across GCC and beyond. Learn more about this platform and how it can benefit your business:

Describing itself as a commission-free ordering platform, ChatFood helps you drive online orders for pickup and delivery with 0% commission on sales.
How does this work?
By integrating the online ordering system with your restaurant's existing platforms, ChatFood allows your customers to easily place direct orders through any of your platforms – whether it is your restaurant's website, WhatsApp for Business Account or your Instagram and Facebook Messenger.
It also offers free integration with online payment gateways (Apple Pay), partnered 3rd party delivery drivers such as Quiqup and 1click2deliver (or live tracking of your restaurant drivers), and POS systems – helping you fulfill every order from start to end and track all orders from a single dashboard.
How does this help?
By giving you greater control of your delivery business, your restaurant can reduce the heavy reliance on delivery aggregators such as UberEats, Zomato and Hungerstation and resultantly save on costs. It's no secret that the commission charged by aggregators makes them an expensive solution. The tradeoff in this case will always be their enormous customer footprint.
Additionally, leveraging on your social media pages for order taking not only helps in growing sales and customer base from your posts and ads, it also helps in strengthening the direct relationship your restaurant has with its customers and drive further loyalty with personalized messages, discount codes and rewards for loyal customers.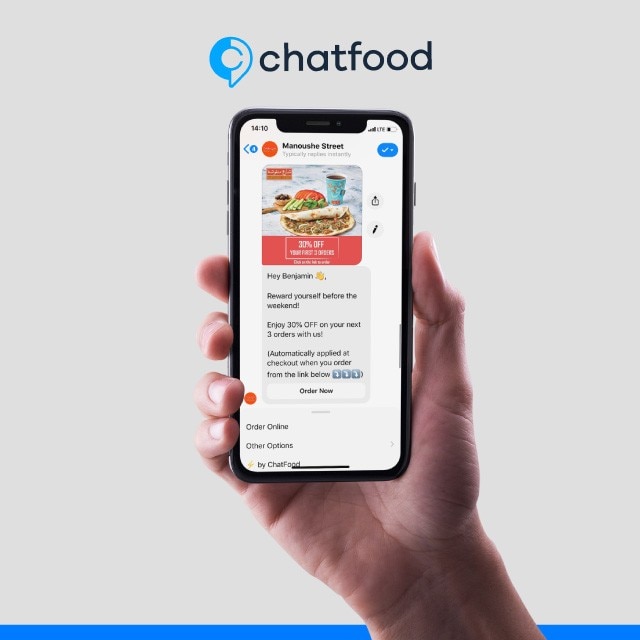 FREE Guide: Getting Started with ChatFood
Download this short presentation to know more about the Marketing & Ordering services being offered by ChatFood to boost sales and drive customer loyalty.
Download now
How can I sign up?
Visit chatfood.io to know more about the pricing plans or book a demo. Avail your 30 days FREE-trial and try out all offered features with no setup or cancellation fees!

In response to COVID-19, ChatFood and FoodSheikh have created a temporary listings website, supportlocalrestauarants.com, to support direct ordering for restaurant take away and delivery during these difficult times. If you offer direct ordering, simply provide some information on your business directly on the website to include your restaurant in the list (UAE only).
What's the right solution for your business?
The aggregators and the direct ordering solutions both have their fans. In some cases, a venue will offer both options to its customers.

There are many considerations for operators when it comes to choosing the right delivery and takeaway platform for their business:
Do the aggregators service my area?
What impact will the potential customer reach of each platform have on my success?
Is it important that I maintain a direct line of contact with customers?
Can my business cover the commissions charged by aggregators?
Do I have the appetite to manage my own deliveries without an established third party fleet from UberEats, Zomato, Talabat etc.
Have I got a philosophical issue dealing with the aggregators?
But one thing is for certain: there is no lack of choice for operators. And right now, when doing well in delivery is a crucial chance to get ahead and obtain a competitive advantage, time spent carefully weighing up the options will be time well spent.