Designed for professional chefs, check out this Fusion Pasta: Asian Chicken Shiitake Alfredo recipe. Cooking instructions broken into components, full list of professional ingredients, chefs' preparation secrets. Master this recipe with products like: Knorr Chicken Stock Powder, Knorr Hollandaise Sauce and Knorr Professional Teriyaki Sauce.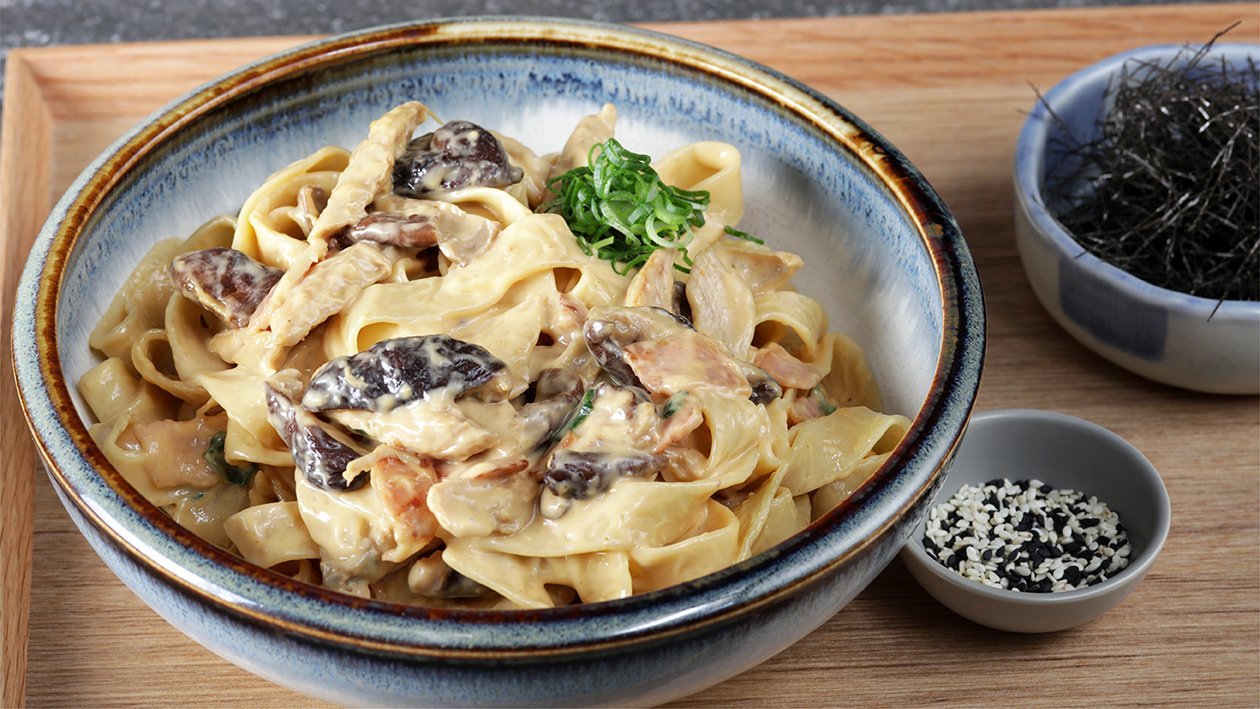 Ingredients
Pouch Chicken:
Sauce:
Pouching liquid/water

100.0 ml
Finish off the Pasta:
Shiitake mushrooms, sliced

700.0 g

Beef bacon, cubes

300.0 g
Garnish:
Spring onion, chiffonade

200.0 g

Cheese, parmesan, grated

300.0 g

Sesame seeds, mixed

200.0 g
Preparation
Pouch Chicken:

Dissolve Knorr Chicken Stock Powder in water and pouch chicken breast whole on medium heat for 10 minutes.
Remove chicken and set aside to rest before shredding chicken for the pasta dish. Keep some liquid for the sauce.

Sauce:

Blend the Knorr Hollandaise Sauce with Knorr Professional Teriyaki Sauce, thin the sauce down with some poaching liquid or pasta water.

Finish off the Pasta:

Sauté onions, shiitake mushrooms, bacon and garlic in olive oil until bacon is crispy.
Toss in the chicken pieces and cook for a minute while adding Knorr Professional Teriyaki Sauce to the pan to deglaze.
Add cooked pasta and then Asian sauce.
Add some pasta water if needed.

Garnish:

Decorate pasta with spring onions, sesame seeds and nori.