Designed for professional chefs, check out this Mushroom and Spinach Omelet recipe: cooking instructions broken into components, full list of professional ingredients, chefs' preparation secrets. Master this recipe with products like Knorr Hollandaise Sauce and Knorr Aromat.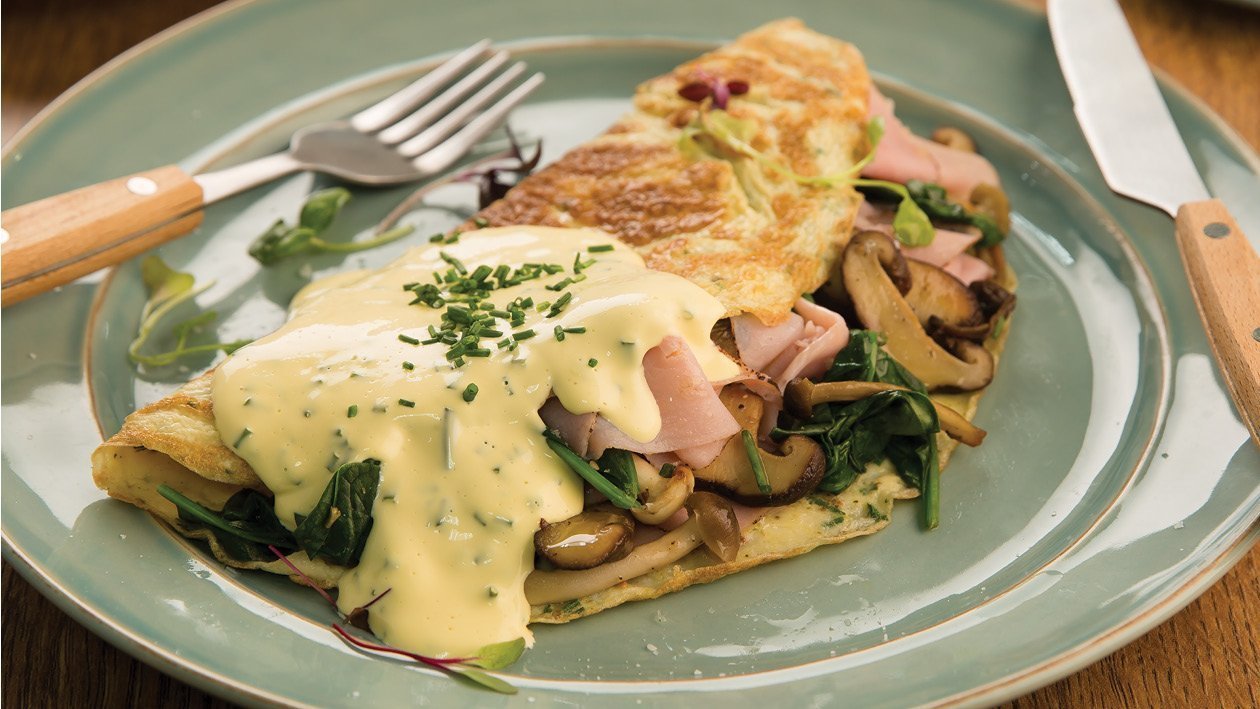 Ingredients
Sauce:
Chives, finely slides

3.0 g
Filling:
Unsalted butter (can be replaced with 30ml of Olive oil)

30.0 g

White onions, brunoise

20.0 g

Garlic cloves, minced

3.0 g

Button mushroom, sliced (can be a mixture of different kinds of mushrooms)

60.0 g

Ground white pepper

2.0 g

Spinach leaves, trimmed, washed and roughly chopped

30.0 g

Smoked cured meat (beef speck, ham or pancetta)

30.0 g
Omelet:
Large eggs, beaten

2.0 pc
Preparation
Sauce:

To make the sauce, combine the Knorr Hollandaise Sauce with the chives in a small saucepan. Warm the sauce over low heat. Taste and adjust seasoning. Set aside until ready to use.

Filling:

Heat a small 8 inch slope sided saute pan over medium heat. Add the butter to melt.
Sweat the onion, garlic until fragrant.
Add the mushrooms and stir until they are cooked through. Season with Knorr Aromat and pepper.
Add the spinach leaves. Cook until the leaves have wilted. Transfer to a bowl or plate. Set aside until ready to use.
Wipe the pan clean with a paper towel and place it back on the stove over medium heat.

Omelet:

Add the butter to the pan, let it melt then pour the beaten egg mixture into the pan. Mixture should set immediately at the edges.
Gently push cooked portions from edges toward the center with a spatula so that uncooked eggs can reach the hot pan surface. Tilt the pan and continue to gently move the cooked portions as needed.
When the top surface of eggs is thickened and no visible liquid egg remains, place the mushroom/spinach filling on one side of the omelet and top with a few slices of smoked cured beef. Fold omelet in half with turner. With a quick flip of the wrist, turn the pan and slide the omelet onto the plate.

To Assemble:

Drizzle the chive hollandaise over the omelet.