Designed for professional chefs, check out this Potato Cakes with Smoked Salmon, Prawn and Avo recipe: cooking instructions broken into components, full list of professional ingredients, chefs' preparation secrets. Master this recipe with products like Knorr Hollandaise Sauce and Knorr Mashed Potato.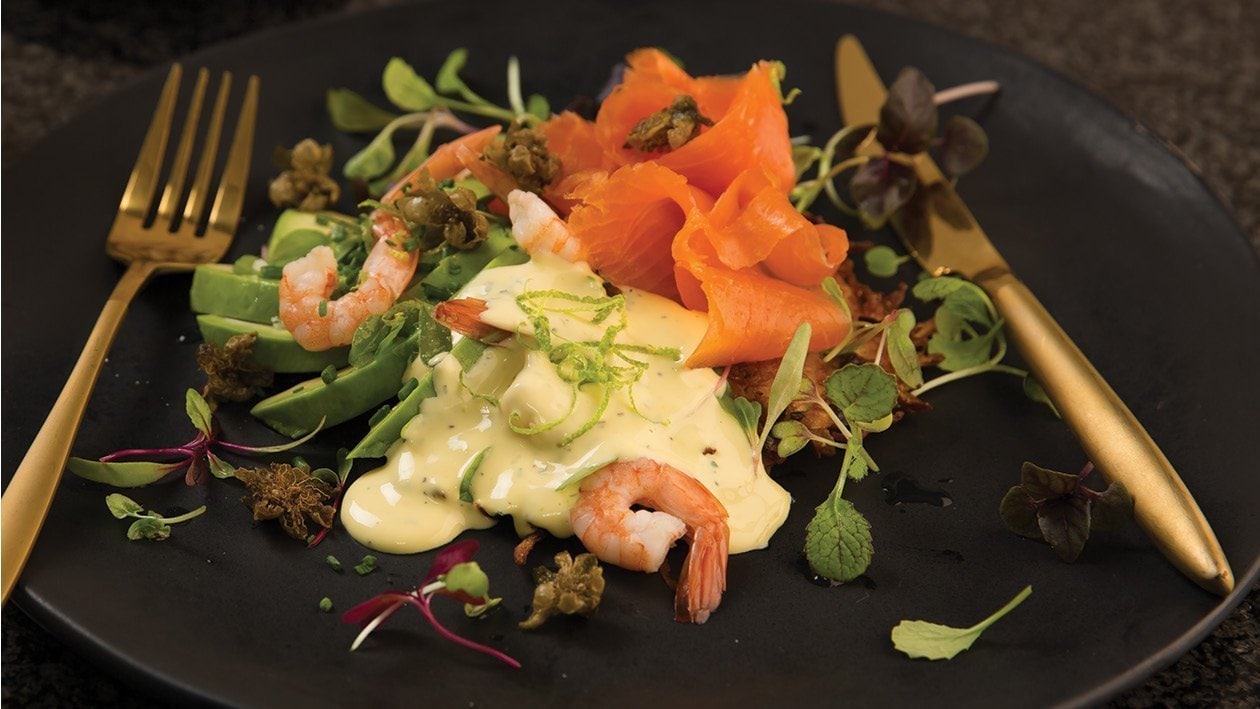 Ingredients
Potato Cakes:
All purpose flour

300.0 g

Panko breadcrumbs

400.0 g
Maltaise Sauce:
Blood or navel orange, juiced and zested

3.0 pc
To Assemble:
Smoked Salmon slices

900.0 g

Shrimp, peeled and blanched

900.0 g

Hass Avocado, peeled and sliced

6.0 pc
Preparation
Potato Cakes:

Place water in a saucepan and bring to a boil. Remove from the heat and whisk in the Knorr Mashed Potato. Place in a bowl and refrigerate until cold.
Add the fresh dill and horseradish. Mix well to combine. Taste and adjust seasoning.
Form the mixture into 2.5 to 3 inch balls and press them gently to form a cake. Option to chill them for a minimum of 30 minutes so that they will be easier to handle and bread.
Bread each cake using the regular procedure of using flour, eggs and panko breadcrumbs. At this stage, the cake can be stored in the chiller or freezer.

Maltaise Sauce:

While the cakes are being chilled, make the Maltaise sauce by combining the Knorr Hollandaise Sauce with the orange juice and zest in a saucepan. Warm the sauce over low heat. Season with salt and ground white pepper. Set aside until ready to use.
Heat oil to 350°F. Deep-fry the cakes until golden brown. Place over paper towels to drain excess oil. Keep warm using a heat lamp.

To Assemble:

To plate, arrange one piece of cake on a plate and arrange 3-4 slices of smoked salmon, 3 pieces of shrimp and avocado.
Drizzle with maltaise sauce and topped with salad greens.

Chef's Tip:

Optionally, drizzle salad greens with lemon juice and olive oil.