Read about how to promote your business and increase profitability during the football season. From promotions, upselling, visibility, and social media, we've got you covered!
Get into the Spirit of the Game: This football season is a marketing dream come true for operators, so here are some ideas and tips on how to make the most of the opportunity.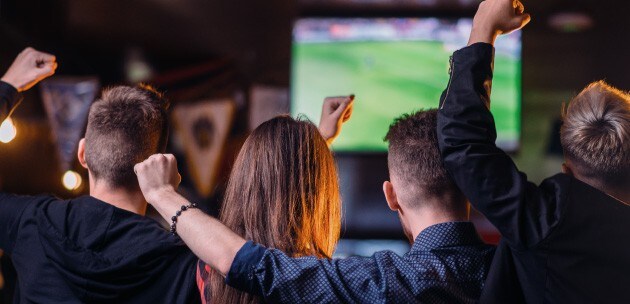 Plan promotions to drive traffic, grow sales and increase loyalty on some of your menu items: 
Up-sell to Improve Profitability: Entice diners to spend a little more. First sell your base dish and then add a little bit extra for a fee. Any extra margin you make is a bonus on what you are already selling. Burgers are always an easy up-sell – add a special sauce or hot chips.
Bundling is a good way to increase customer spend – add a free soft drink or dessert with every burger sold during Happy Hour, for example. This will encourage diners to spend more and perhaps come back for another special deal. 
Hot Tip: The most lucrative up-sells are those that can be done quickly and efficiently and will not make any extra work for your over-busy staff. Sauces are a good choice, and there are some excellent speed-scratch options that will help you to maximize your profits with little extra effort from your staff. 
Who Does the Up selling? Creating an up-sell menu is a great idea, but you need your staff to do the work on the selling. So, make sure everyone is trained to sell the special and encourage them to get into the spirit of up-selling items at every opportunity. [You might want to create an in-house incentive
Remember to up-sell across all platforms: Find ways to up-sell in the various platforms you use for takeout and delivery and use social media for marketing special offers.
Be Visible: You need to be SEEN to attract more footfall and more orders for delivery. By making a few simple changes to in-store displays and social-media marketing, you can boost sales during big sporting tournaments.
If you are trying to generate foot traffic, having signage, and creating a buzz around your special will create interest and attract customers. For example, if Brazil are playing in a final, you may want to put a Brazilian flag outside your establishment and call your special the "Brazilian Burger". 
Hot Tip: Be streamlined when it comes to your promotion – you do not want to be running too many promotions at one time. 
A Push on Creative Promotions: Customers looking for healthy takeout ideas or delicious food delivery options will love take-and-make kits or special delivery boxes. The Make-It-Yourself kits are great for football fans who are staying in to watch the games. 
Make sure you have a well thought out social-media strategy in place. Look at the best performing social-media platforms for your customers and make your voice heard.
Here are a few top tips:
Only upload top-quality copy, photographs, and video.
Understand the power of great photography – images speak louder than words.
Be consistent in your tone of voice and style of content.
Tag locations, especially your own restaurant in all content posted on your profile.
Respond to queries on social media (make sure you have someone manning your different platforms and keep an eye on the competition).
Respond to regular tweets about the games but put the attention on your establishment.