Why are we all so obsessed with comfort food?
With new healthy food trends popping up constantly, it might come as a surprise that comfort food – traditionally associated with hearty, carby dishes – is having such a revival. While health is still a priority for diners, post-pandemic restaurants are seen as more of a reward, so customers are more likely to treat themselves. 
Plus, with many having to cut back on luxuries to save money, 72% of consumers say that indulgences (no matter how small) will be now a part of their daily routine. People have been limited to staying home and cooking so much more for themselves, so it makes total sense that ordering from their favourite restaurant is now seen as such a treat.
At the same time, the growth of takeaway and delivery services shows no sign of slowing down. Because comfort food lends itself so well to a variety of formats, there's a real opportunity for chefs and restaurants to step up to meet this demand. We're sharing tips on why offering comfort food via delivery or takeaway is an easy win for increasing business.
Comforting chicken recipes diners will love
As such popular meat, chicken dishes are a failsafe and cost-effective addition to your menu. Why not try offering chicken options as an add-on to existing dishes as a way of upselling your current dishes? Get inspired with these on-trend chicken dish recipes.
Firecracker Chicken Nachos
Nachos – but not as you know them. This recipe puts a flaming, spicy twist on the dish customers already love.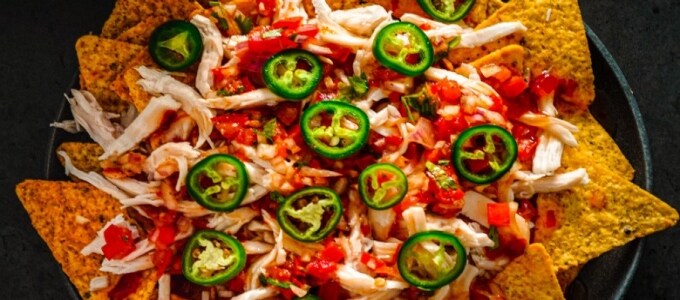 Chef Jo's tips:
Fried chicken on the menu? Use Knorr Professional Far East Seasoning to season fried chicken for extra flavour. A ready-mixed blend of eastern-inspired natural herbs and spices, it can also be used to liven up fries and mashed potatoes. 

Even if chicken isn't the main ingredient in a dish, adding Knorr Professional Chicken Stock Powder to broths, soups and stews is an easy and low-cost way to add more flavour. 
Try this: East Asian flavours are a huge trend right now - chefs will love our Knorr Professional Teriyaki Sauce, a ginger-soy glaze perfect for adding authentic Japanese flavour to chicken dishes.
It's just one of the latest trends in global cuisine as the international food scene continues to evolve.