Kousa Mihshi Bi Laban
Designed for professional chefs, check out this Kousa Mihshi Bi Laban recipe: cooking instructions broken into components, full list of professional ingredients, chefs' preparation secrets. Master this recipe with products like: Knorr Beef Stock Powder, Knorr Lime Seasoning Powder, Knorr Mashed Potato.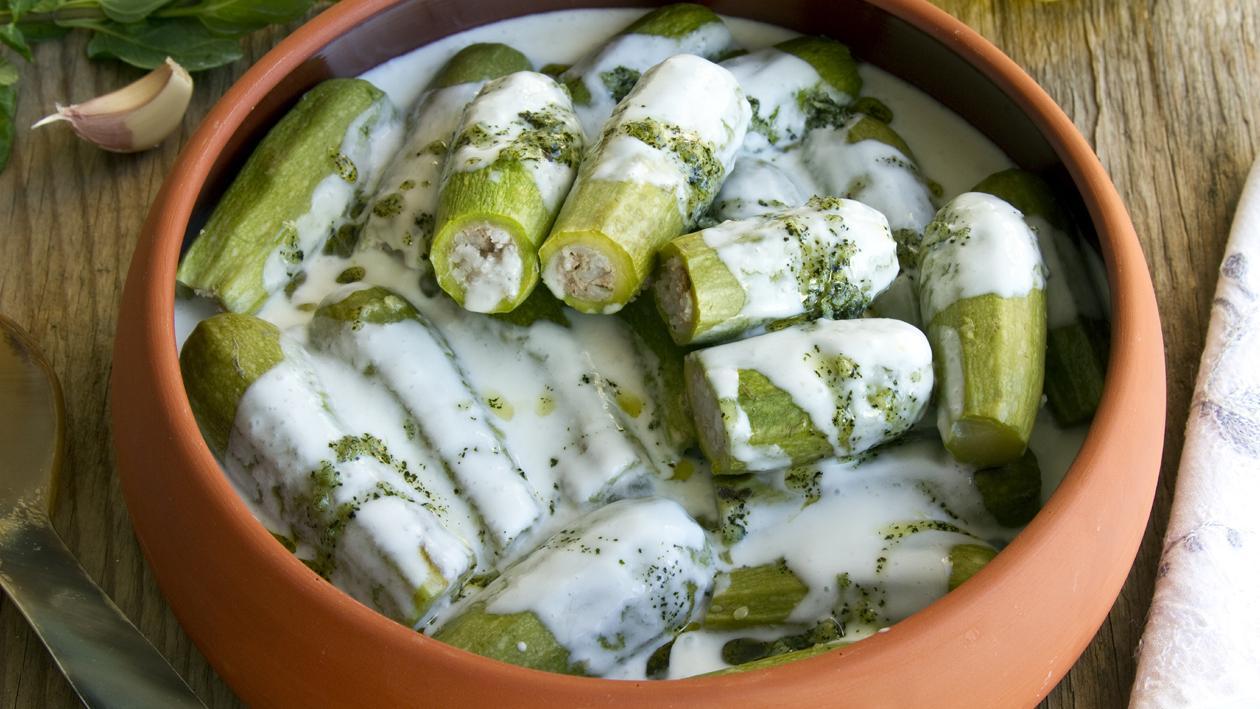 Ingredients
For the Stuffing:
For the Sauce:
Garnish and Presentation:
Preparation
For the Stuffing:

Choose medium sized zucchini. Wash and cut of stem end. Using a corer hollow out zucchini leaving rounded end intact. (I actually use the wrong end of a small spoon and it works for me) Try not to puncture the skin. Soak in salted water for 10 minutes.
Sauté onions in butter until transparent, add pine nuts until golden brown.
Add pan contents to ground meat and Knorr Beef Stock Powder. Mix in rice, parsley, spices and about a teaspoon of salt, pepper and oil if meat is lean.
Fill zucchini with stuffing. (The rice expands and the meat will shrink so fill them all the way).
Arrange zucchini in layers in a large pot, sprinkling each layer lightly with Knorr Chicken Stock Powder. Add water and invert a plate on top of the zucchini and bring to a slow simmer, cover and simmer gently for 1 hour or until tender.

For the Sauce:

Meanwhile heat the stabilized yogurt. When it begins to simmer/boil, add garlic, spices and Knorr Lime Seasoning Powder. Boil for 2 minutes, then remove from heat.
When zucchinis are cooked, remove plate and pour garlic yogurt mixture over them and leave over medium heat for 10 minutes to boil gently. Cook uncovered until sauce is thick.
Crush the dried mint to a coarse powder and sprinkle on top. Leave off the heat for 10 minutes before serving. Serve with Knorr Mashed Potato mashed potatoes or steamed rice.

Garnish and Presentation:

Garnish with fresh coriander leaves. Serve hot, in hot soup bowl.