Machboos
Machboos is one of the most popular Emirati dishes. It consists of rice and can be made with chicken, lamb, or seafood. This recipe contains saffron and Knorr spices for a sumptuous aroma. Nuts, seeds and herbs complete the dish adding texture and colour. Cook this recipe for Ramadan, view it below!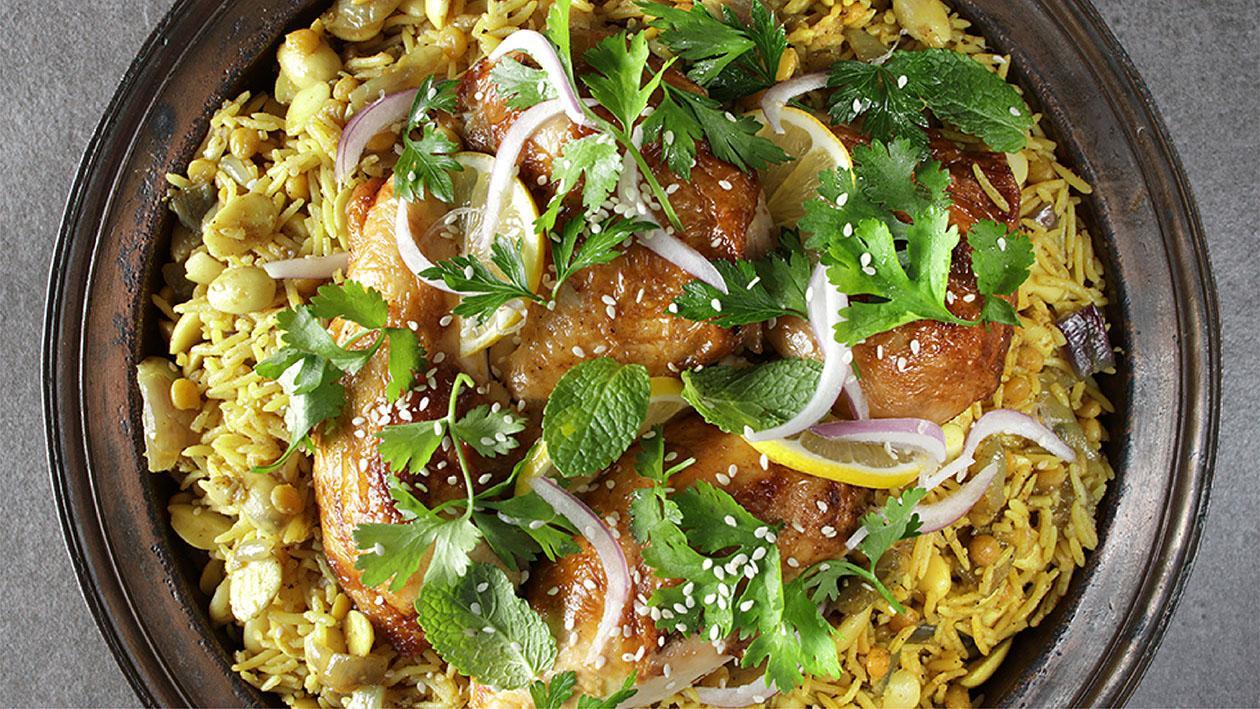 Ingredients
The Chicken:
Chicken, whole, cut into quarters

5 kg

Cardamom whole, bruised

8 pc

Coriander leaves, chopped

20 g

Saffron, soaked in lemon juice

1 g
Preparation
The Chicken:

Clean chicken pieces and rub with Knorr Chicken Stock Powder and bezar spices, then brown on both sides with some of the ghee.
Transfer to the pot, add more ghee, fry garlic, cardamom, cinnamon sticks and fresh chopped coriander.
Pour in Knorr Tomato Pronto and then add the potato, simmer for 15 minutes.
Remove chicken pieces from the pot.
Rinse basmati rice until water runs clear, add to the pot and set the chicken pieces on the top of the rice.
Dilute the Knorr Chicken Stock Cubes in the water and Pour in the rice pot until it covers the chicken and bring to a boil, reduce heat and cook until rice is cooked for about 20 minutes.
Meanwhile fry slices of onion in the remaining ghee until browned, remove from heat and mix in the raisins.

Plating:

Arrange rice in a platter, top with chicken pieces, and garnish with onion and raisin mixture. Boiled egg can be added as garnish and fresh herbs.