Chicken Mandi
Mandi, a traditional dish of Yemen made either with chicken or lamb. It is very popular throughout the Arab region. Traditionally, the meat is slow cooked in a tandoor which makes the meat extremely tender and delicious. It is served over aromatic rice with side sauces and dips. Download this perfect Ramadan dish here!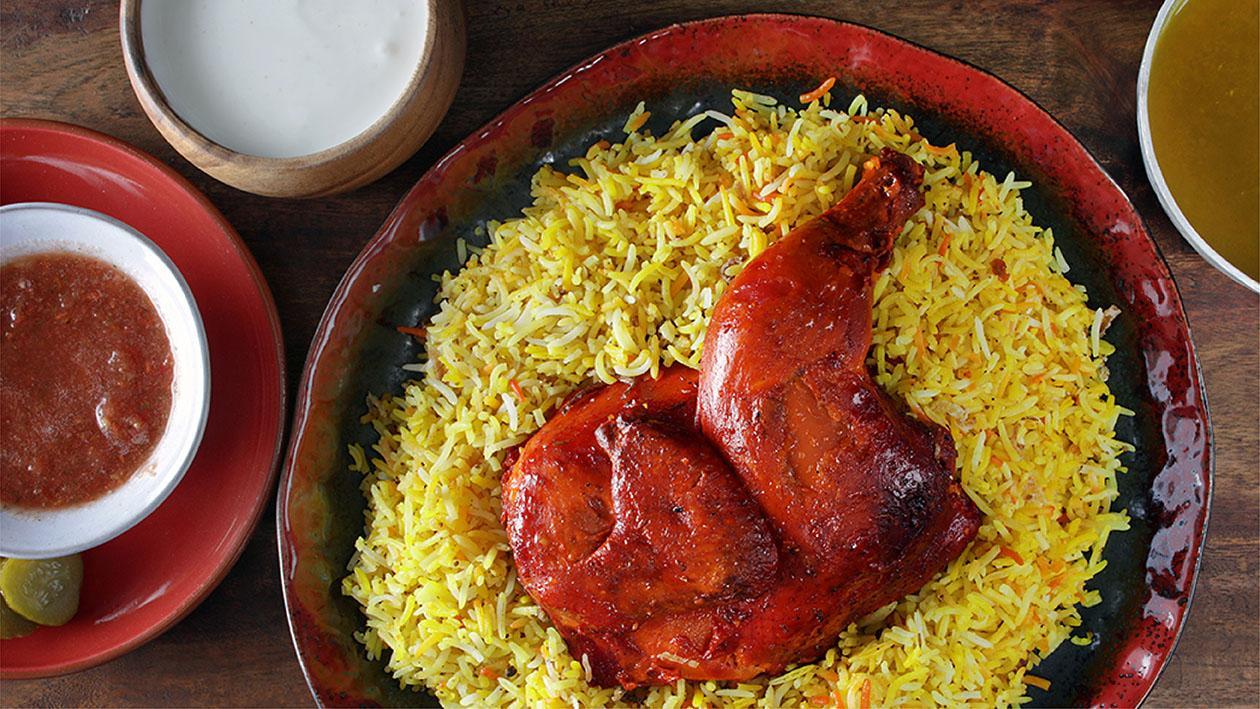 Ingredients
Hawaij Spice Mix:
Chicken Mandi:
Red food colouring (optional)

1 ml

Chicken, cut in halves

3 kg

Knorr Corn Oil (4x5L)

60 ml

Knorr Concentrated Chicken Bouillon (6x1L)

5 ml
Preparation
Hawaij Spice Mix:

Toast all the whole spices in a pan or hot oven till fragrant. Place in a blender and blend till a rustic powder is formed stir through the turmeric and cool. Store in air tight container for up to 6 months.

Chicken Mandi:

Mix together the Hawaij spice, food colouring, turmeric and melted butter, cover and marinate the chicken overnight.
Preheat the oven to 220°C. In a large pot, sauté the onions in the Knorr Corn Oil over medium heat until soft, add the spices to toast, turn off the heat, add the rice, chillis, Knorr Chicken Stock Cube, Knorr Concentrated Chicken Bouillon and water.
Place a wire rack over the pot of rice, place the chicken on top of the wire rack, making sure that the pot is larger in diameter than the chicken. Place both in the oven at 220°C.
Start off cooking the chicken/rice for 15-20 minutes so that the outside of the chicken starts the browning process. Then lower heat to 160°C cover the pot and cook it through for 1 hr.
Remove the rice and chicken to rest. Fluff the rice while adding the saffron water to the rice.
Cut the chicken and place it in the rice pot. Place a small ramekin in the middle with vegetable oil inside. Then add the red-hot coal inside the oil and cover the pot with a lid. It should smoke, giving the rice a smoky flavor.
Remove the ramekin after a few minutes when smoke is gone and serve.