Knorr Mashed Potato (1x2kg)
67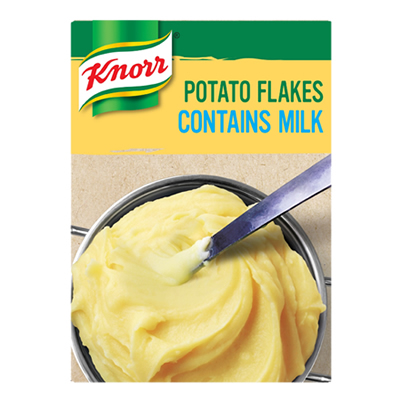 How this product will help you
Save on preparation time – it takes just 3 minutes from start to end
Save on storage space and labour costs
No waste in the form of potato skins, energy, water or time (1 pack = 13kg of mashed potato)
+ See all product details
All product information
Nutrition and allergens
Ingredients
Potatoes, Vegetable Fat (Palm), Skimmed Milk Powder, Salt, Lactose, Emulsifier Mono & Diglycerides of Fatty Acids (E 471) Maltodextrine, Antioxidant (Ascorbyl Palmitate E 304i), Nature Identical Mace Flavour, Natural Butter Flavour, Turmeric Extract (Spice)
Allergen Information
Contains milk
Nutrition Information
| Typical values | Per 100 g | Per 100 ml |
| --- | --- | --- |
| Energy kJ | 1,500.00 kJ | - kJ |
| Energy kcal | 360.00 kcal | - kcal |
| Protein | 10.00 g | - g |
| Carbohydrate, by difference | 59.00 g | - g |
| Carbohydrate including fibers | - g | - g |
| Sugars, total | 6.00 g | - g |
| Total lipid (fat) | 7.00 g | - g |
| Fatty acids, total saturated | 4.000 g | - g |
| Fatty acids, total monounsaturated | 0.000 g | - g |
| Fatty acids, total polyunsaturated | 0.000 g | - g |
| Fatty acids, total trans-monoenoic | 0.100 g | - g |
| Cholesterol | 0.27 mg | - mg |
| Fiber, total dietary | 7.0 g | - g |
| Calcium, Ca | - mg | - mg |
| Iron, Fe | - mg | - mg |
| Potassium, K | - mg | - mg |
| Sodium, Na | 1,500.00 mg | - mg |
| Vitamin A, IU | - IU | - IU |
| Vitamin C, total ascorbic acid | - mg | - mg |
| Salt (based on sodium) | - g | - g |
| Water | - g | - g |
| Ash | - g | - g |
*% of Reference Intake of an average adult (8400kj/2000kcal)
Key product information
Description
Knorr Mashed Potato is an easy to prepare, high quality potato mash. The quality of our 100% sustainably grown potatoes is the key ingredient for this traditional side dish. Due to the dehydrated mixture of potato flakes and skimmed milk, Knorr Mashed Potato is the ideal gluten-free companion for steak and roasts.
Usage information
Preparation
Heat 11L of water to 80-85˚C (do not exceed the temperature). Add the potato flakes mixture while stirring with a whisk. Let rest for 2-3 minutes and Stir once again. Dosage: Water (80-85˚C) / Potato flakes: • 5.5L /1.0kg • 8.25L / 1.5kg • 11.0L / 2.0kg
Benefits
• 100% sustainably grown potatoes
• Gluten free
Storage
Ambient (Store in a cool and dry place), Max 25˚C.
Tips
These amazing dried potato flakes not only make the best and easiest mash around, but you can also use them as a gluten-free crust on fish, chicken and meats.