Fahsa Saltah
Designed for professional chefs, check out this Fahsa Saltah recipe: cooking instructions broken into components, full list of professional ingredients, chefs' preparation secrets. Master this recipe with products like: Knorr Demi Glace, Knorr Tomato Powder.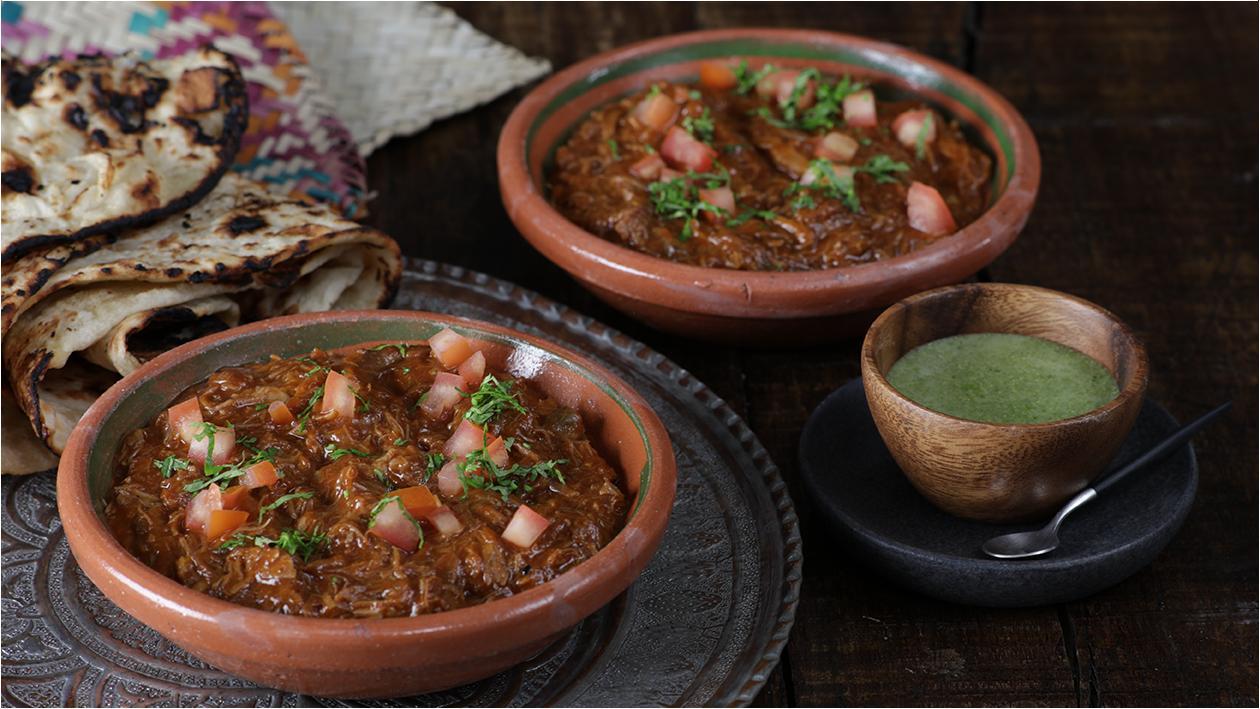 Ingredients
Stew:
Fenugreek Dip:
Garlic, chives (Korath)

40 g
Plaiting:
Garlic, chives chopped (korath)

2 g
Preparation
Stew:

Heat the oil in a pot, sear the lamb and remove, deglaze with a little water. Sweat off the onions, garlic, chilli.
Then spices to toast off. Place the lamb back into the onion mix and add 3.5 L water and bring to a simmer.
Stir in the Knorr Demi Glace and simmer for ± 3 hours till lamb is very tender.
Remove the lamb and shred - keep to the side.
Add the 200ml water to the lamb gravy and bring to a simmer. Add the Knorr Tomato Powder and whisk in. Turn off the heat and add back the lamb, Cool till ready to use.

Fenugreek Dip:

In a bowl add the water then the fenugreek powder and allow to soak for 1 hour.
While the fenugreek is soaking put all the other ingredients (garlic, chilli, cumin, coriander and salt) in a food processor and blend till smooth and reserve till fenugreek is ready.
After an hour of the soaking pour off the excess water from the fenugreek. Using a whisk whip up the fenugreek to a pale paste then add the chive mix a little at a time to get the taste and spice level you require.

Plaiting:

In a clay serving pot place the lamb stew and heat in the oven on high till the lamb is heated through and bubbling.
Remove from the oven and place on wooden board. Serve with the fenugreek dip and Yemini bread. Garnish with the chive and tomato concassè.