Nasi Biryani
There are hundreds of Biryani verities globally, and this Singaporean/Indonesian style is one of the big favourites. Based on satisfying all the taste buds with sweet, sour, bitter, salty and umami aromas. Lemongrass, Pandan leaves and evaporated milk plus spice and lime make for a tantalizing variation. Try it out and see for yourself!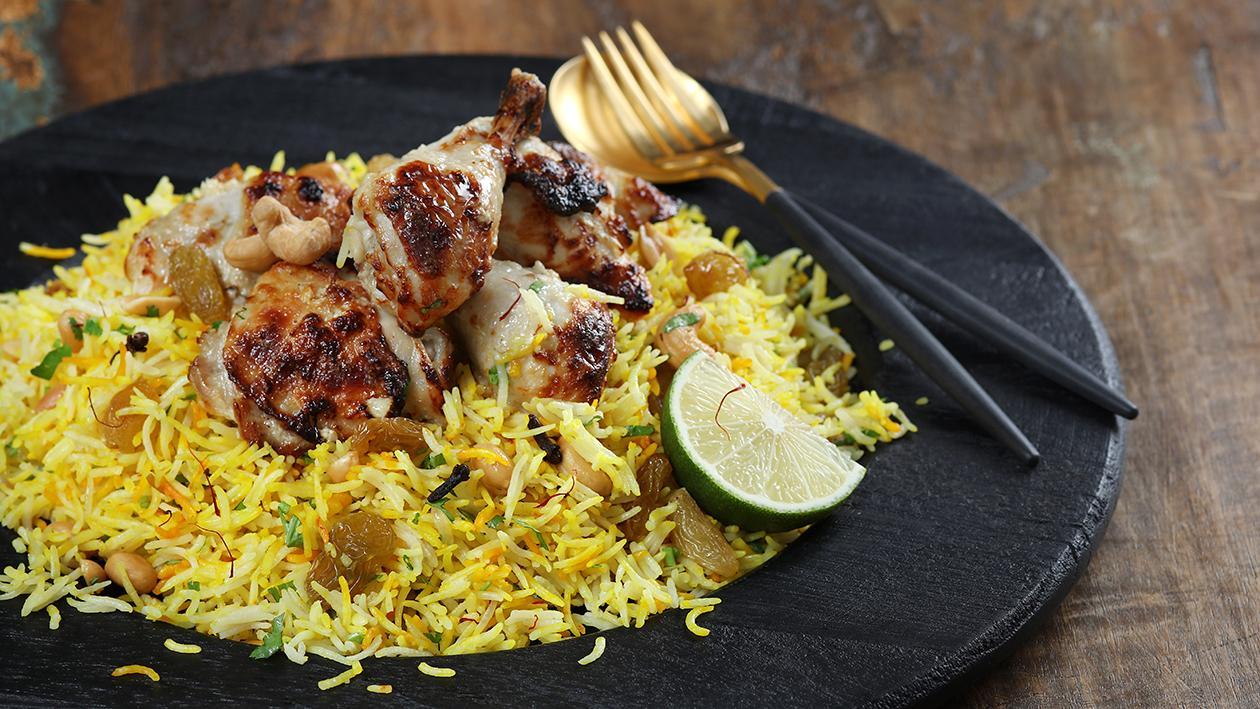 Ingredients
Chicken Marinate:
Knorr Concentrated Chicken Bouillon (6x1L)

80 ml

Knorr Corn Oil (4x5L)

100 ml
Preparing Savoury Rice:
Green chillies, seedless

20 g

Pandan leaves, fresh

2 pc

Black pepper, crushed

5 g
To Serve:
Cashew nuts, toasted and whole

250 g
Preparation
Chicken Marinate:

Portion each whole chicken into 8 or 10 pieces. Marinade using Knorr Corn Oil, Knorr Chicken Bouillon Powder, garlic, ginger, yoghurt and Knorr Lime Seasoning. Allow to absorb flavours for 12 hours minimum.
Place marinated chicken into casserole or oven dish and cook covered with lid or foil for 30 minutes.
Finally grill chicken un-covered for 10 minutes or until golden brown.

Preparing Savoury Rice:

Sweat off the onions in ghee before adding the garlic, ginger and chilli and cook till soft.
Add the spices whole and ground, cook for 2 minutes to allow flavours and aromas to come through.
Add the lemongrass and Pandan leaves, cook for 3-4 minutes more.
Once all the ingredients are well mixed and cooking add evaporated milk and water. Crumble the Knorr Chicken Cubes into the pot and dissolve.
Finally add saffron and the un-soaked rice. Cover with a lid or foil and cook for 15 minutes on low to medium heat or until rice is tender.
Take 50% of the coriander, raisins and nuts and mix through the rice. Make sure to remove the Pandan leaves and lemon grass before serving.

To Serve:

Layer the chicken portions onto of the rice and sprinkle the additional nuts, raisins, lime zest and herbs. Garnish with fresh lime wedges.