Knorr Tomato Pronto (6x2kg)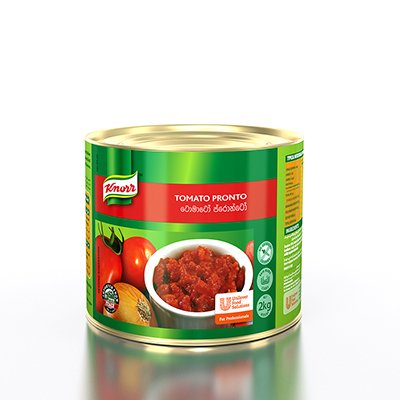 Total Price
121.28 AED
Recommended price (including VAT)
UFS Reward Points
121 Points
Preparation
Use as a base sauce.
Storage
Store in a cool and dry place, away from humidity and direct sunlight, at temperatures Max 25°C.
Tips
The best quality tomatoes from Italy, ready cooked for you. Try blending it with a small amount of Knorr Mise en Place Pesto for your pizza and pasta sauces. http://unileverfoodsolutionsarabia.com/en/product/knorr-mise-en-place-pesto-1-EN-132130.html
Benefits
• 100% sustainably sourced tomatoes
• From farm to tin in less than 24 hours
• 2kg tin contains 3kg of tomatoes
• 77% tomatoes and 18% tomato concentrate
Ingredients
Tomatoes (95%), vegetable oil (sunflower seed), salt, water, sugar, dried onion, acidity regulator (citric acid).
Description
Knorr Tomato Pronto is made from sun-ripened tomatoes from the Emilia-Romagna region in Italy. They're cooked, peeled, de-seeded, and cut into a unique concasse, giving you the perfect base for tomato sauces and soups.


Nutrition Information

| Typical values | Per 100 g | Per 100 ml | Per portion |
| --- | --- | --- | --- |
| Energy kJ | 191.00 kJ | - kJ | 0.00 kJ |
| Energy kcal | 46.00 kcal | - kcal | 0.00 kcal |
| Protein | 1.20 g | - g | 0.00 g |
| Carbohydrate, by difference | 5.30 g | - g | 0.00 g |
| Carbohydrate including fibers | - g | - g | 0.00 g |
| Sugars, total | 4.60 g | - g | 0.00 g |
| Total lipid (fat) | 1.70 g | - g | 0.00 g |
| Fatty acids, total saturated | 0.200 g | - g | 0.000 g |
| Fatty acids, total monounsaturated | 0.500 g | - g | 0.000 g |
| Fatty acids, total polyunsaturated | 0.800 g | - g | 0.000 g |
| Fatty acids, total trans-monoenoic | 0.000 g | - g | 0.000 g |
| Cholesterol | 0.00 mg | - mg | 0.00 mg |
| Fiber, total dietary | 1.5 g | - g | 0.0 g |
| Calcium, Ca | - mg | - mg | 0 mg |
| Iron, Fe | - mg | - mg | 0.00 mg |
| Potassium, K | - mg | - mg | 0 mg |
| Sodium, Na | 433.00 mg | - mg | 0.00 mg |
| Vitamin A, IU | - IU | - IU | 0 IU |
| Vitamin C, total ascorbic acid | - mg | - mg | 0.0 mg |
| Salt (based on sodium) | - g | - g | 0.00 g |
| Water | - g | - g | 0.00 g |
| Ash | - g | - g | 0.00 g |

*% of Reference Intake of an average adult ({0}) 8400kj/2000kcal